XQP 535A Program EQ
$383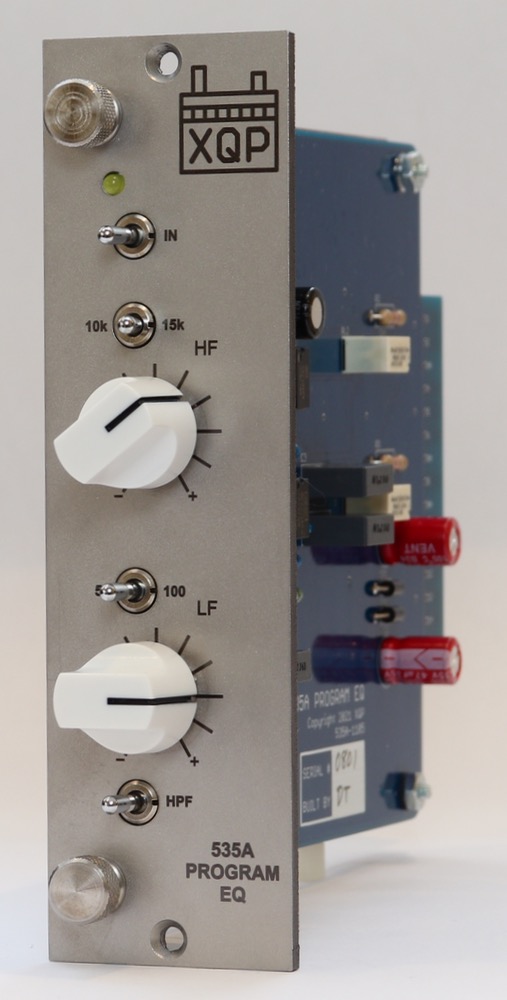 The XQP 535A is the newly revised version of the 535, a simple two-band Baxandall EQ with two frequencies per band. Maintaining the same frequency points as before, the A model provides slight increases to the amount of boost and cut, gives the user a switchable, passive high-pass filter, and decreases the number of active stages by two.
The high band frequency points are labeled 10kHz and 15kHz, as that seems like reasonable points to our ears. In fact, the actual filter frequencies are about 40kHz and 60kHz respectively. The gist of this is, when boosting, the slope continues to rise past the normal accepted limit of human hearing. The result is a beautiful, shimmering high end, not at all harsh.
In keeping with the shallow slopes afforded by the Baxandall equalizer section, the switchable high-pass-filter is a single-pole passive design, providing 6dB/octave slope, down 3dB at about 90Hz. This slope is just slightly steeper than the full-cut slope of the LF band, but lower than the 50Hz position by over an octave. Certainly when the EQ is in boost, the difference can be heard when the HPF is switched in, giving the user additional control and preventing excessive subsonic build up.
The 535A sports the new XQP logo and shares some of the Lima-inspired build properties with the 2531 optical de-esser, including all stainless steel panels and dual thumbscrews for easy insertion and extraction from the Lunchbox or other 500-series enclosure.
&nbsp